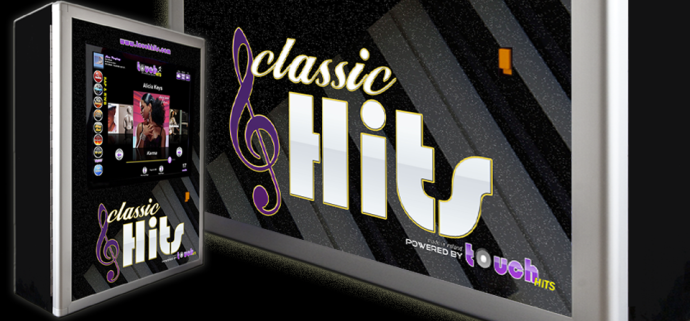 The classic jukebox never looked and sounded so good
TouchHits are proud to unveil our new Classic Hits digital jukebox. This state of the art jukebox combines style and protection by merging a robust, slimline cabinet that's only 180mm deep, with an 8mm acrylic screen backed by a protective touchscreen bezel and housing. Running on the latest TouchHits technology, the Classic Hits offers thousands of audio and video hits on demand from the old time favourites to modern day chart releases and everything in between. If you're looking for a jukebox that combines security with the latest in modern technology and styling, to blend seamlessly with it's surroundings, then you won't find better than the new Classic Hits jukebox from TouchHits.
Hardware Features:
19″ Touchscreen display with protective bezel
Polished aluminum door frame
8mm high glossy acrylic
Secure steel cash box
Cashflow 330 coin mechanism
optional 2 x 100 channel amplifier & above
Zonal volume control & reject facility
SFF on-board computer
Software Features:
Easy to use touchscreen interface
3 viewing options
High definition music video playback
Album and single track amalgamation
Over 20 music genres
SmartSearch
Intuitive music search facility
In-built Top 50 music chart
Intelligent background music scheduler
High definition video advertising
Fully customisable scrolling advertising
Automated musical content updater
Track request feature
Sophisticated system data manager
Dimensions:
Width = 550mm
Height = 700mm
Depth = 180mm
Click here for downloadable PDF brochure.
Please note, the Classic Hits jukebox is no longer in full scale production but refurbished units may be made available upon request. To find out more about this, or any of the other TouchHits products, please call +353 1 4433117 or alternatively see our Contact Us page.